Understanding Pet Joint Health
How Do Joints Work?
A joint is the cushion between bones that allows the body to move naturally and comfortably. Some are mobile while others are fixed, but all play an important role in your pet's body. Understanding how your pet's joints work can help you understand the value of a quality, vet-recommended joint supplement like GlycoFlex®.

Cartilage is the major connective tissue which caps the end of the bones around each joint, and which acts as the principal shock absorber between bones during everyday activities.
Cartilage is made up of four major components:
Chondrocytes (cartilage cells)
Water
Healthy joint cartilage requires a steady supply of key nutrients, like glucosamine, chondroitin sulfates, and methylsulfonylmethane (MSM). These nutrients are transported to the joint via synovial fluid, a viscous liquid that surrounds the joint and is responsible for joint flexibility, cushioning, and resiliency.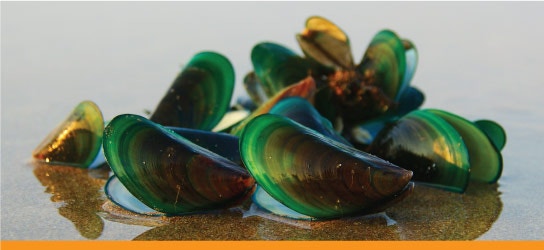 The two major components of synovial fluid—chondroitin and hyaluronic acid—are both found in Perna canaliculus. More commonly known as green-lipped mussel, Perna is a major ingredient in our GlycoFlex® joint-support product line!
As our pets age, normal production of these important nutrients may decrease. Supplementing with a complete joint-support product like GlycoFlex® may be the answer to a more comfortable life for your pet! GlycoFlex® contains many of the important nutrients required for healthy joint function, and can keep your pet more mobile for years to come.
What Do Healthy Joints Look Like?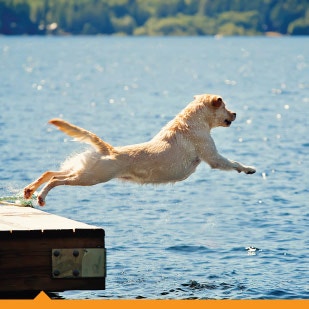 A longer leap off the dock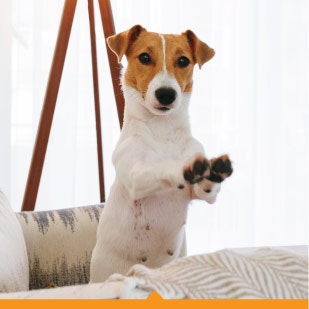 A stronger spring onto the couch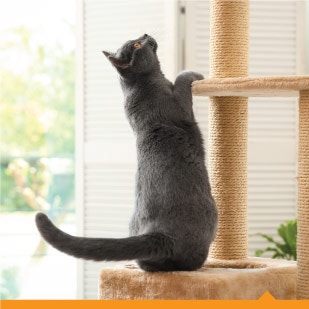 A confident climb up the cat tree
Joint Problems Can Start Earlier Than You Think
Many people assume that hip and joint problems only affect dogs and cats in their senior years. However, there are a number of risk factors that may affect your pet's joint health and cause discomfort. While most dogs and cats are born with healthy, normal joints, genetic factors do contribute. Joint problems and discomfort are often seen in larger dog breeds, but they can affect small dogs and cats, as well.
Environmental risk factors may affect joint health and can exacerbate any existing genetic issues. Common risk factors for joint problems include:
If your pet checks multiple boxes in this list, they may be at a higher risk of developing hip or joint problems before they hit their senior stage of life.
What Happens When a Pet Has Hip and Joint Issues?
Most of the factors listed above cause inflammation, and lingering inflammation can cause damage to all the parts of the joint—including cartilage, bones, tendons, and ligaments. The inflammatory response can lead to loss of cartilage, which also means a loss of synovial fluid and a loss of those important nutrients, like glucosamine and MSM. After a long period of inflammation, the body is less efficient in producing the appropriate amount of nutrients to support the health of the joint.
An unhealthy, weak joint can lead to reduced muscle or tissue strength, increased inflammation (a vicious cycle), pain and discomfort, and an overall poorer quality of life for the pet.
Common signs that your pet may have joint discomfort include:
Reluctance when standing, climbing stairs, or jumping into a car or onto a couch

Pain and weakness in the hips and hind end

General decrease in range of motion

Limping or weakness while walking or running

General decrease in energy and activity
If you have concerns that your pet may be showing signs of joint discomfort or hip issues, talk to your veterinarian.
What Can I Do to Help My Pet?
Some risk factors of hip and joint issues are out of our hands, like genetics. However, you can control for certain environmental factors, like obesity (throughout their lives) and extraneous activity on hard or steep surfaces (when your pet is still young).
| | |
| --- | --- |
| | Soft-ground exercise can help some puppies and kittens develop their joints without added stress. Controlling these risks may help keep joints stronger, longer. |
Whatever your pet's age or activity level, you can provide comfort and protect their joints with whole-food, effective ingredients that offer support for cartilage health and tissue integrity. You can also add carefully formulated joint supplements for dogs and cats to provide additional support.

Supplementing with an effective, clinically proven, vet-recommended joint supplement can help your pet stay limber, mobile, and comfortable for longer!