Thunderstorms
Fireworks
Traveling
Vet and Grooming Visits
Holidays and Parties
Routine Changes
Fast-acting calming support chews for dogs.
Only %1 left
Composure™ is a fast-acting formula that promotes calm behavior in dogs that are anxious or stressed. It's great for thunderstorms, fireworks, traveling, vet visits, routine changes and more. Composure™ is clinically shown to work within 30 minutes and last up to 4 hours.* Since Composure is a supplement, it's suitable to double or triple your dog's dose during times of added stress.

Our unique formula features extensively researched ingredients that help your dog remain calm without harmful side effects. Patented Colostrum Calming Complex® Biopeptide Blend, Thiamine (Vitamin B1) and L-Theanine work together to support balanced behavior and a relaxed state of mind. These ingredients have been shown to help reduce stress and unwanted behavior. Composure™ is made with naturally sourced ingredients in a delicious bite-sized chew that dogs love!

*CanCog Technologies Study "Assessment of Anxiolytic Properties of a Novel Compound in Beagle Dogs with a Noise-Induced Model of Fear and Anxiety"
Directions for Use: Up to 50 lbs: 1 chew daily.
51-100 lbs: 2 chews daily.
Over 100 lbs: 3 chews daily.
Product can be given daily or on an as-needed basis. It is safe to double or triple the dose in times of increased stress.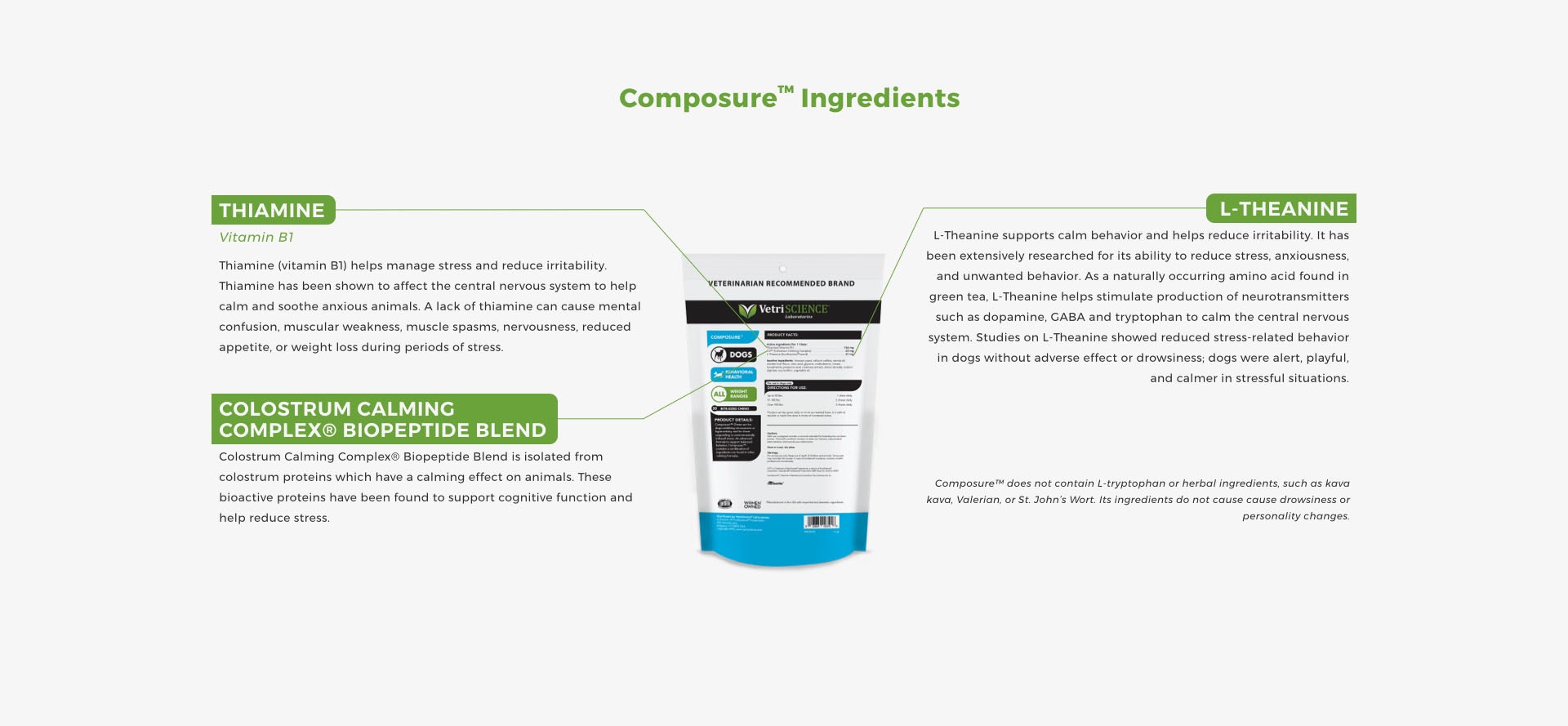 Reviews represent the opinions of the authors and have not been modified in any way. They have not been reviewed by the FDA and are not intended to diagnose, treat, cure, or prevent any disease. We reserve the right to remove any review that claims or implies a product can diagnose, treat, cure or prevent any disease or makes similar unapproved disease claims.